Former Law Student From Jacksonville, Florida, Pleads Guilty of Making Threats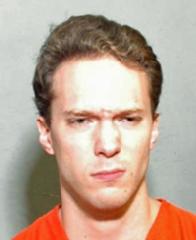 A 2009 law school graduate from Jacksonville, Florida, pleaded guilty Tuesday to federal charges of transmitting threats across state lines.  Michael Behzadi's home was searched and prosecutors say that investigators found a few pieces of disturbing evidence.  He made a list, entitled "Don't (expletive) This Up World Domination."  The first item on the to-do list was to "buy eggs," but other items on the list included running guns to Nigeria and killing Behzadi's professor at Florida Coastal School of Law.
According to court documents, Behzadi's girlfriend reported in March that he was planning to kill his ex-girlfriend, her new boyfriend and her parents.  She also claimed that Behazadi was intrigued with sexual violence, handguns, power and Nazism.
After a mental health evaluation, he is pleading guilty to transmitting threats across state lines.  He waived federal indictment.
Behzadi has a history of mental issues, and now faces up to five years in prison.